This post brought to you by Scotts Miracle-Gro. All opinions are 100% mine.
You know how busy I've been getting our deck ready for spring - refinishing the patio furniture, painting the swing, and adding pillows and potted plants.  But what about the yard?
I was really hoping we'd have some surprise plants come up, but no such luck :(  Almost everything we planted last fall made it, with the exception of the hydrangea Lucky peed on all winter.
You saw my daffodils in the front yard that I planted to close to the azaleas - now that they're past peak, it's time to move them.  I wanted to get to them this past weekend, but other fun projects took up all my time!  Maybe one night after work this week...
I need to do it soon, because the azaleas are ready to start showing off!
The mums are coming back, and the pansies I planted over the winter have come back to life!  I also transplanted a few daylilies from the back yard that seem to be thriving.
There are some new plants too - alliums that will bloom above the azaleas soon, and dahlias that are working on coming up. 
This is the first year for the redbud tree, and it didn't bloom at all.  I think it's making up for it with cute heart-shaped leaves.  We're expecting a big cicada year, and lady cicadas do a lot of damage to small branches when laying their eggs, so I have plans to protect it soon with netting.
My favorite one to watch has been my peony.  I made a peony bouquet for my wedding, so I picked out this plant to remind me of our wedding.  It was a bare root when I planted it, and I've been questioning its ability to thrive since I planted it.  But it came up a few weeks ago and is looking awesome!  Even though it's Year 1, it looks like I'll get a bloom, too!  I can't wait!
What's providing a pretty background for everything is a fresh layer of colored mulch.  We used four bags of Scotts Nature Scapes mulch in Deep Forest Brown.  The bag said the color should last a full year!  Don't know how much to use?  That link earlier in the paragraph takes you to a calculator.
Seeing all the work my neighbors have been doing in their grass yards, I've been really happy that we decided to go with mulch.  Fertilizer, daily watering, and serious weeding?  No thanks.
Having a mulched yard has so far meant practically zero maintenance.  Aside from the hour to put out the fresh mulch, I spend a few seconds here and there sweeping a few strays off the sidewalk and pulling the spare weed.  Compared to what's been going on in my one neighbor's grass yard (weed city and weekly mowing), my yard is looking spiffy!!!  And I'm also avoiding paying folks to come mow a postage stamp yard every week!
Next year I might try a different mulch from Scott's - they just started offering one made from Florida Eucalyptus, called Scotts Florida Select Natural Eucalyptus Mulch, that's good for sustainable gardening.  Not only is it grown in the USA, but the trees grow four times faster than the cypress that mulch is typically made from.  It's 100% eucalyptus, so it doesn't have bits of scrap wood, like pallets, all mixed in.  I bet it also smells awsome!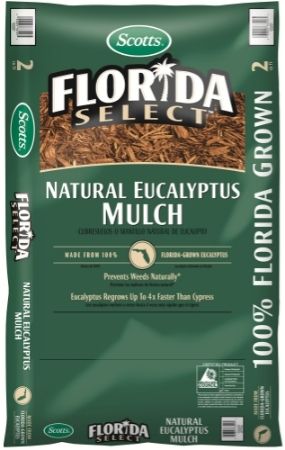 Curious about my gardening supplies?  My go-to tools are gloves, a spade, a flat shovel, and a tarp!  You really don't need much more than that for a small yard.